Digital Financial Exchange (DIFX) Launches its Official Crypto Launchpad with XAct Token as its Debut Project
BUCHAREST, ROMANIA, 30th March 2023, ZEXPRWIRE, Digital Financial Exchange (DIFX), a global multi-asset trading platform, has officially launched a brand-new Crypto Launchpad.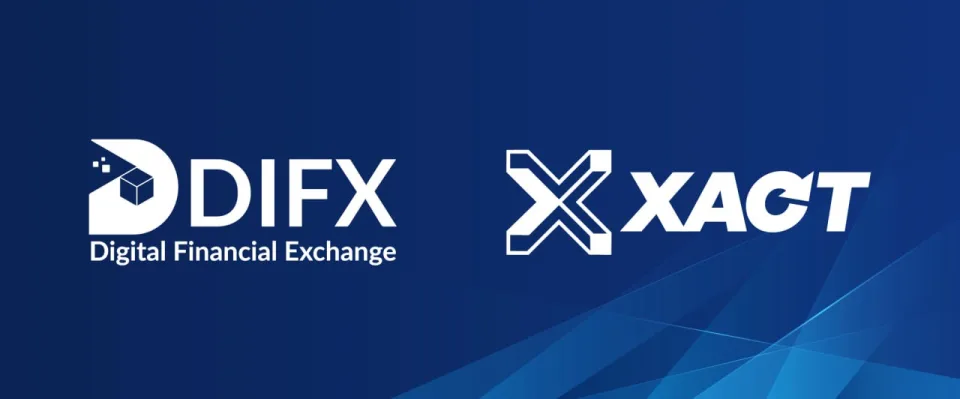 The global trading platform has announced the launch of its new Crypto launchpad platform, providing exclusive access to emerging cryptocurrencies before hitting the mainstream crypto market. The launchpad is designed to empower users with the ability to invest in high-quality, secure and legitimate projects that have been vetted and approved both technically and legally by the DIFX team of experts. With the launch of the DIFX launchpad, the exchange is taking a significant step towards democratizing the crypto space by making it accessible to everyone and helping promising blockchain and web3 projects successfully launch within the industry.
As part of the launchpad services, DIFX will be officially launching the XAct Token as its debut project. $XACT serves as the primary utility token of the XActRewards platform which is a secure and decentralized platform that manages and exchanges loyalty rewards for customers. The rewards-centered blockchain-based platform is a cutting-edge cashback system that combines the best of traditional web2 cashback systems to give shoppers a new experience.
Furthermore, with its proprietary technology, $XACT facilitates its users with advanced security and privacy services for its users, while the blockchain-based recording system provides transparency and protection, making transactions fast, secure, and cost-effective.
XAct Token's loyalty program is decentralized, meaning it is run by multiple users rather than a single entity, unlocking opportunities for growth and evolution. Customers can build up wealth gradually by collecting XAct Tokens, with a percentage of each purchase reimbursed in the form of this specific cryptocurrency. With the new developments, the XAct Cash Back Token program connects the worlds of Web 2.0 and Web 3.0, making it easier for individuals to benefit from the use of cryptocurrencies.
Regarding the launch Cushbinshad CEO of XAct Rewards stated "Having $XACT on the DIFX launchpad is a big milestone for us in our goal to help our users and community unlock the power of Web3 rewards. Our goal with the XAct Token is to make cryptocurrencies more accessible for everyday use. Our loyalty rewards program is a significant step in that direction, ensuring customers receive valuable rewards that can be easily exchanged for cryptocurrencies or fiat currencies."
Additionally DIFX CEO, Jeetu Kataria stated "Launchpads are a significant step for us as a trading platform to grow and scale blockchain projects and give value to our user base and the overall crypto community. Our goal with launchpads is to give access to a wide variety of promising projects that exist in the market and give them the break they need to successfully launch & thrive."
$XACT will have their initial sales on the Launchpad starting on March 30 till April 5, 2023 along with various social media and trading activations for the crypto community to earn and redeem additional rewards. To subscribe for the XAct Token, head on over to https://difx.com/en/launchpad-details?coin=XACT
About Digital Financial Exchange
Digital Financial Exchange (DIFX) is a leading centralized multi-asset trading platform launched in 2021 with a mission to bridge traditional and digital markets. It allows users to trade between multiple asset classes that include Indices, Forex, Crypto, CFDs, Metals, Commodities and more. Along with multiple asset classes to invest in, DIFX comes with a secure crypto wallet as a result of its partnership with Fireblocks, one of the leading crypto custodians in the world.
To begin your journey with Endless Possibilities, download the app now from the iOS or Google Play Store, or visit us at difx.com.
About XAct Rewards
XActRewards platform, utilizing the cutting edge technology, offers XAct tokens, a digital asset that can be used for participating in the loyalty rewards program which aims to transform the way businesses and customers interact. By combining the security and decentralization of blockchain technology with traditional cashback systems, XActRewards offers a solution that is both innovative and practical, setting a new standard for the future of rewards and incentives.
To learn more about XActRewards visit www.xactrewards.com
PR Contact
ZEX PR WIRE

info@zexprwire.com
Disclaimer: The views, suggestions, and opinions expressed here are the sole responsibility of the experts. No Money Builds journalist was involved in the writing and production of this article.